Amazon Elements Turmeric Complex with Black Pepper and Ginger, Curcumin Supplement, 65 Capsules
$12.74
Description
Feature:
Turmeric Complex with black pepper extract and ginger root powder
– 65 capsules
– 2 month supply (taken daily at the listed serving size)
– Made in a Good Manufacturing Practices (GMP) facility
– An Amazon brand
How It's Made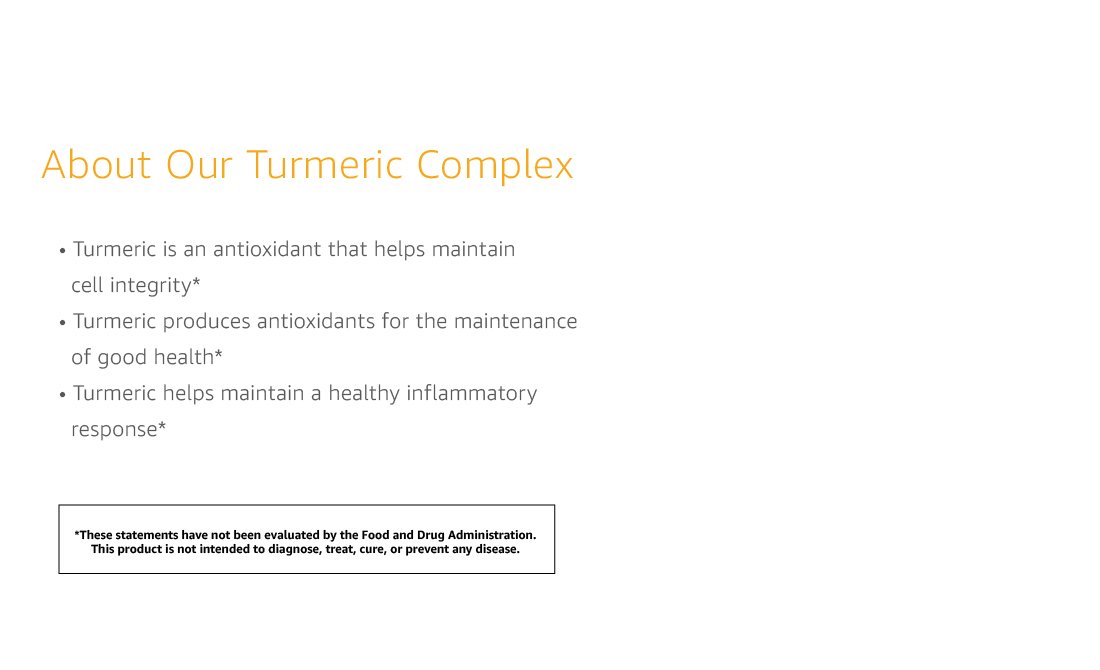 Turmeric Complex Details
Turmeric rhizomes (stems) are harvested from the fields of India, chopped, dried, and milled into a fine powder. Curcuminoid compounds are extracted from the rhizome powder, concentrated, filtered, and dried to a powder. Black pepper oil and resin are harvested, dissolved, treated, cooled, and filtered. The pepper material is washed, dried, milled, and sifted to produce a purified extract called piperine. The curcuminoid powder and piperine are blended together with ginger root powder. The final product is capsuled, bottled, and available after passing our potency, purity, and integrity testing.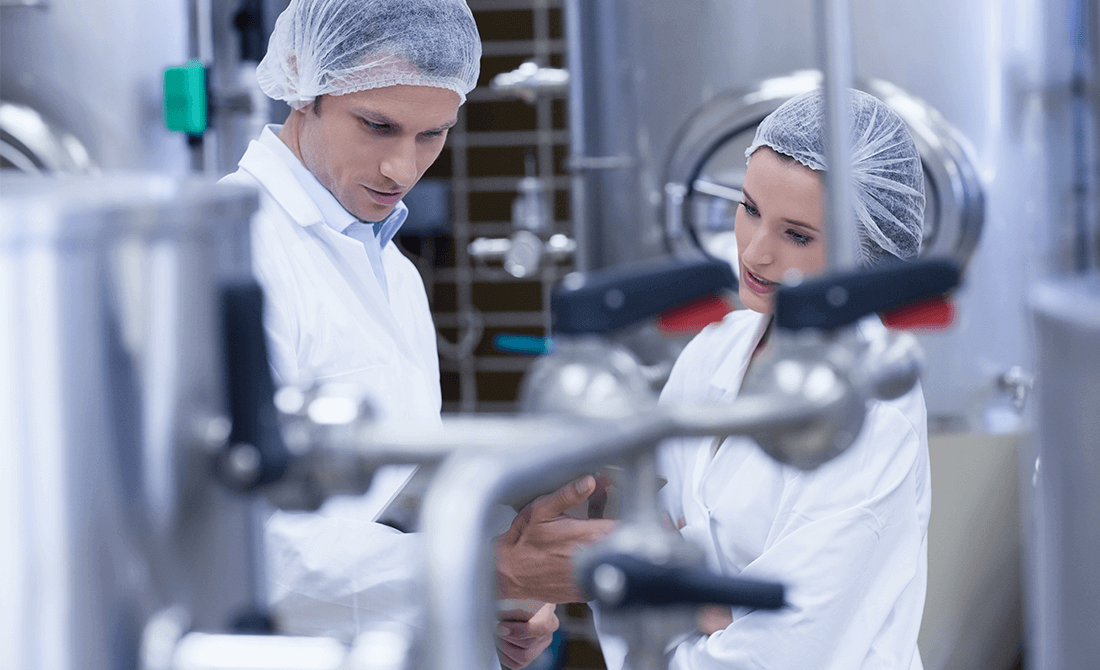 Meet Our Manufacturer
We chose our manufacturer, Arizona Nutritional Supplements (ANS), because of their 20 years of experience in the world of vitamins and dietary supplements. Located in Chandler, Arizona, ANS is known for their high quality standards and thorough evaluation of products and ingredients at every stage. From raw materials to finished goods, their rigorous program ensures that you receive a high-quality, unadulterated product that you feel good about taking.
Located in Chandler, AZ


Ingredient Origins
Learn about the ingredients in this supplement, where they come from, and what purpose each one serves.
Turmeric Root Extract (Curcuma longa L.) (standardized to 95% curcuminoids)
Active ingredient created by extracting curcumin from turmeric roots. From India
Organic Ginger Root Powder (Zingiber officinale)
Our organic ginger root powder is manufactured in the US from ginger rhizomes (roots) grown in China. From China
Black Pepper Fruit Extract (Piper nigrum) (standardized to contain 95% piperine)
Extracted from oleoresin harvested from Bangalore, India, our black pepper extract is a purified source of piperine. From India

See all ingredients
Vegetable Capsule (hydroxypopyl methylcellulose)
Holds, seals, and protects the formula. From USA
Microcrystalline Cellulose
Ensures each capsule is consistently filled. From Brazil
Magnesium Stearate
Lubricates the formula so that it can be easily encapsulated. From Jurong Island, Singapore
Silicon Dioxide
Prevents the formula from caking and sticking to the manufacturing equipment. From USA
Still have questions?
Where is this product manufactured?
The final product is manufactured in Arizona, USA, by Arizona Nutritional Supplements (ANS). To see where the ingredients originate, check the ingredients section. Most of our products use ingredients from around the globe.

See all questions and answers

How long are supplements potent?
Supplements degrade naturally over time at varying rates. We test our supplements potency after each production and include those results on the certificate of analysis. This means that the potency for your bottle may be lower than appears on the certificate of analysis depending on its age. To ensure you get the most from our product, we designed our shelf-life to account for this.

How did you verify the safety and quality of this product?
We developed a robust program that includes testing the raw materials and finished products for integrity (microbial, heavy metal, and chemical), purity (identity and authenticity), and potency (concentration of ingredients) to ensure their safety and quality.

How did you establish the safety and quality standards for this product?
Amazon Elements quality standards are based on industry practices, state and federal guidelines, and consultation with scientific research and analysis, in addition to risk assessment of the raw materials, products, and manufacturing facility.

Who tests the supplement?
We use the ANS state-of-the-art facility as well as ISO accredited third-party labs to validate the potency, purity, and integrity of our products. Each lab is responsible for performing different tests.

What is an ISO accredited lab?
Accreditation is the formal recognition by an independent body that a lab operates according to international standards developed by ISO (International Organization for Standardization).
Is this the certificate of analysis for my supplement?
The certificate of analysis on this page is from our latest batch of product. You can access the certificate for your supplement by scanning the barcode on the bottle. Simply open the Amazon mobile app, click the camera icon in the search bar, and scan your bottle's barcode.

How do I access the certificate of analysis for my bottle?
This can be accessed through the code located on the front of your bottle. Simply open the Amazon mobile app, tap the camera icon in the search bar, and scan the barcode on your bottle.

What is the difference between a supplement in a capsule and a tablet?
A capsule is used as the vessel to hold a powdered supplement formulation. The formulation remains a powder inside the capsule, whereas in a tablet, the supplement formulation is compressed.

Does this supplement contain allergens?
This supplement is free of the eight ingredients designated as major food allergens by the Food Allergen Labeling and Consumer Protection Act of 2004. These ingredients are: milk, eggs, fish, crustacean shellfish, tree nuts, peanuts, wheat, and soybeans.

What is magnesium stearate? Why is it added to the supplement?
Magnesium stearate is a chemical compound of magnesium salt of stearic acid. It is a white, water-insoluble powder used to lubricate the supplement formula so that it can be easily encapsulated.

What is silicon dioxide? Why is it added to the supplement?
Silicon dioxide is a chemical compound most commonly found in quartz and living organisms. It is used to prevent the supplement formula from caking and sticking to manufacturing equipment.

I took this supplement and now I feel sick. What should I do?
Please contact your health care practitioner. You can also call our customer service at 877-485-0385 or send a letter to the address listed on the bottle to report any adverse event you experienced as a result of taking this supplement.
Additional information
| | |
| --- | --- |
| Weight | 0.19 lbs |
| Dimensions | 4.35 × 2.25 × 2.25 in |
| Binding | |
| Brand | |
| EAN | |
| LegalDisclaimer | |
| Manufacturer | |
| Publisher | |
| ReleaseDate | |
| Size | |
| Studio | |
| UPC | |